Get Ready for Bloggy Olympics!!!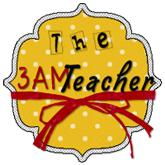 Join The 3AM Teacher, the Reading Olympians, and over 80 SUPREME education bloggers as we take you through a tour of the Reading Olympians Root Study Program!!
Happy Saturday, Friends! I am so, so, SO excited to be a part of this linky party and share this product with you! A few weeks ago, I was doing one of the things I do best (blog stalking hopping) and found myself at The 3AM Teacher's blog. She put out an all-call for teachers who wanted to try out a Greek and Latin Roots program and blog about it. This was a no-brainer!! Prefixes, suffixes, and root words are ALL OVER the CCSS, plus my bunnies ALWAYS get these types of questions on their spring MAP test.
The lovely Krista from The Reading Olympians sent me the First Grade Roots and Junior Olympians programs. I just tried the Junior Olympians program, although First Grade Roots could be a great introduction/review before you start.
Anyway, here's what the Junior Olympians program is all about!
There are five units in the Junior Olympians program, and they're all named after Greek/Roman gods. Each unit has 5 prefix/suffix/root words in it for students to study, meaning that they will learn 25 word parts by the end of the program. I think that's always been my biggest struggle with teaching this topic... figuring out which roots are most important and in what order to teach them in. PROBLEM SOLVED!!
I forgot to bring my camera to school, so I don't have any pics of the bunnies in action, but I do have some pics of their work. We did the Junior Nike unit first. I put the mini posters for each word part up on the SMARTBoard, and we went through each word part and discussed their meaning. Then each student had a Jr. Nike Journal.
This journal is SO AWESOME! Students write the definitions of each word part, draw a picture, and give examples of words with that word part.
sorry it's hard to see... :/
I use the Daily 5 model in my classroom, so I put this journal into the Word Work station after we introduced each word part. They were responsible for completing one word part per day (although last week was a 4-day week, so they will have to do the last part on Monday).
Each unit also has fun raps to help kids remember the word parts and their meanings. I had a parent volunteer copy, mount on construction paper, laminate, cut, and put on rings, so that each student has a set! Here's what they look like so far:
As we do the rest of the units, I'll have my parent add the rest of the raps to the rings. There is also a component where the students can earn beads/dog tags to build a necklace, but I didn't do this part. I didn't have the supplies at hand and couldn't get them in time for this blog post. But next year I am ordering some pony beads so I can do this!
If you want to check it out for yourself, click HERE to go to the Reading Olympians' TpT store!
Discover the program IN ACTION in more K-6th grade classrooms as you Pass the Torch!! Get ideas, discover the progression of the program, and enter the Raffle for a chance to win ONE of the three prizes listed below!!
First Place Winner : Gold Medal
Prizes: Complete Reading Olympians Program
$50.00 Amazon Gift Card
50% off Discount Code for a 1-Day shopping spree at The 3AM Teacher's Etsy store!
Second Place Winner: Silver Medal
Prizes: $25.00 Amazon Gift Card
40% off Discount Code for a 1-Day shopping spree at The 3AM Teacher's Etsy store!
Third Place Winner: Bronze Medal
Prizes: 30% off Discount Code for a 1-Day shopping spree at The 3AM Teacher's Etsy store!
Pass the Torch!!!
Click the image below to visit the next blog
Kindergarten:
Grade 1 & 2
Grade 3 & 4
Grade 5 & 6
a Rafflecopter giveaway